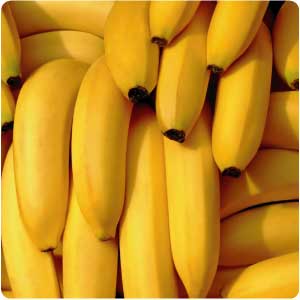 Bananas are a power fruit, did you know one banana provides enough energy to power a 45-minute cardio workout? Pretty neat eh? Loaded with nutrients, vitamins and minerals bananas are a vital part of homemade beauty recipes, especially for facial masks, as they are cleansers and moisturizers. Use the following for a face mask that is nourishing and works great as an exfoliate. I especially like to make this mask during times when I feel like I need some extra energy, like before the start of my work week.
Banana Avocado Nourishing Facial Mask

1/2 ripe banana
1/2 avocado
2 tablespoons of yogourt (try to use full fat if possible)
1 teaspoon of olive oil
Mash up the ripe banana, avocado, yogourt and olive oil together. I like to use a blender on a low setting so that it doesn't become too runny but you want to make it into a soft pulp. Apply to a freshly cleansed face and leave it on for about 15 minutes. Wash off with lukewarm water and pat dry.
While relaxing with my face mask on I use a "cool" trick (sorry I couldn't resist the play on words) to help my eyes after a tired day. Before mixing your ingredients for your mask, place two metal spoons into the freezer so that they are cold. When waiting for your 15 minutes to be up, take the spoons out of the freezer and place them on your eyes. The coolness will reduce any swelling or puffyness and is a wonderful way to relax and revive yourself.